This page shows an external version on the project based on released features. For IBMers viewing this page, please click here and enter the password to view an internal version. You can request the password for internal viewing by emailing me at acavanau@ie.ibm.com.
IBM Counterfraud 2.0
A Safer Planet Product
https://www.ibm.com/developerworks/security/services/cf-insurance.html
Due to be released in late June 2016, we are excited to present a full re-design on the Counterfraud product. We have made extensive changes to the visual treatment of the user interface and revamped the user journey to better meet the needs of customers. This new product allows analysts and investigators from industries such as insurance, banking and anti-money laundering to work more efficiently and effectively to identify fraud and notice trends in their data.
We began by identifying our pain points, empathizing with our users, and striving for a better workflow to delight our customers.
Our Goals
To streamline the experience for customers, providing them with a easy to use interface that allows various roles to swiftly and correctly identify fraud in different contexts.
We aim to simplify our users daily tasks, provide progressive disclosure based on roles (the information each person needs based on their responsibilities), drilldown capabilities for more information, multiple perspectives on the case for thorough investigation, with a sophisticated and state of the art user interface.
Edward Tufte illustrate the problem faced in data visualization in his book, Envisioning Information, "The problem is that of presenting large amounts of information in a way that is compact, accurate, adequate for the purpose, and easy to understand. Specifically, to show cause and effect, to ensure that the proper comparisons are made, and to achieve the (valid) goals that are desired."
We strive to solve this issue through an easy to use, and easy to understand interface that swiftly disseminates the desired information accurately.
User Personas
I worked with the other designers to create user personas based on information we gathered from customer facing offering management, research of the previous CFM product, and interviews with sponsor users.
Hills
See internal version for more information on how we formed of hill statements.
Prototyping and Wireframes
I work with the senior visual designer to create wireframes and prototypes used a number of different methods to create wireframes and clickable prototypes, ranging from hand drawn wireframes, crude lo-fi wireframes, and Invision prototypes using mid-fi and hi-fi mockups, and animated powerpoint presentations. We used these wireframes and clickable prototypes to explain our thinking to stakeholders and demonstrate functionality to front end development. We divided out our workflow, for instance I focused on the UX and visual design for the triage analyst view, executive dashboards (available on internal viewing page), and case summary (for all roles), while the other designer focused on the investigator view, components, the map and maintaining product parody. Once we accumulated a significant amount of new work, every few days, we would swap and critique each other's work. As someone who works primarily in the UX role, I learned a lot in getting to take on some of the visual design responsibility.
Introducing Invision App to the Team
I spearheaded the prototyping on the team by introducing the Invision App and making clickable prototypes. Previously the team had used Powerpoint and did not have any clickable prototypes. This made a big difference in our sponsor user research sessions. The sponsor users loved having the agency to explore the concepts for themselves by clicking around at their own pace and being able see a more realistic prototype helped them to identify specific interaction design issues that we weren't finding with Powerpoint presentations. The clickable prototype also made a big difference with our Stakeholders, but edifying them on the intended design and instilling confidence in them in the design roadmap by seeing a more polished prototype.
User Scenarios
ALLYSON | TRIAGE ANALYST
The triage analyst role makes it easy for Allyson to swiftly analyze alerts through an at-a-glance view on her Alert In-Basket, or drill down to alert details for alerts that are less clear cut. Allyson's job is about making well-informed preliminary assessments quickly. We want to make it easy for her to jump from the In-Basket to alert details to flag to alerts that need to be escalated to investigation.
Click through to see Allyson's user journey. Hover on each image for a step by step description.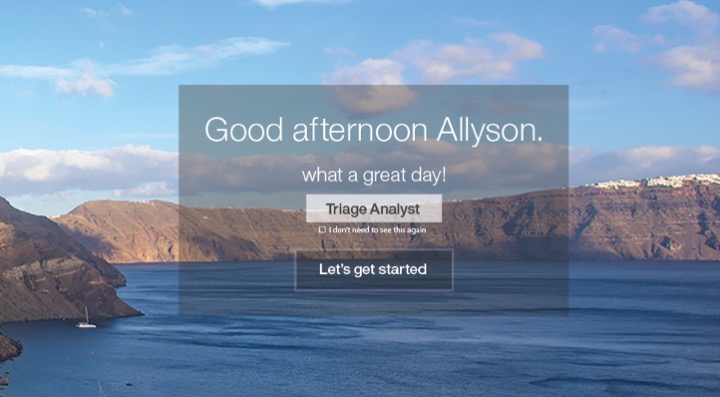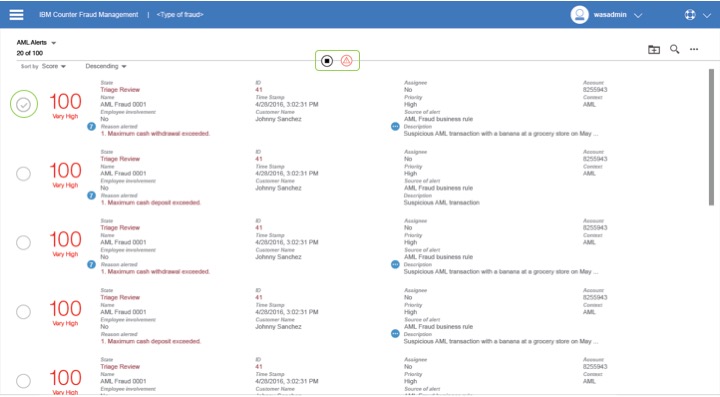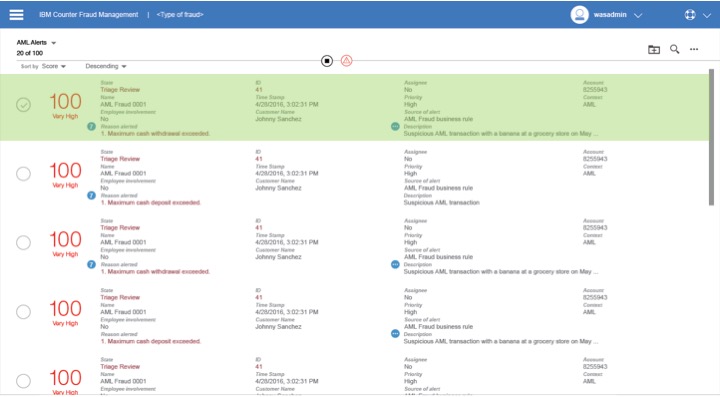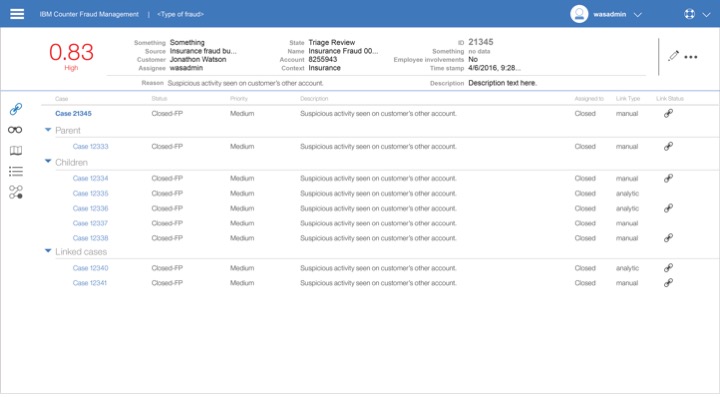 Isaac | FRAUD Investigator
As an investigator, Isaac needs to be able to drill down several levels to explore all angles of the alert or case and decide the outcome based on his expertise and thorough review of the facts. The investigator role includes multiple visualizations of the data, such as a card view, map view, network diagram, and related items. These different views provide Isaac to consider the facts from various perspectives. Isaac can also make notes or check action history to keep himself and others aware of any updates.
Click through to see Isaac's user journey. Hover on each image for a step by step description.